Mark Valdez
We are in the midst of one the greatest 8 day stretches in all of sports. The NCAA Final Four leading straight into the Masters. Back-to-back weekends soaking in the buttery baritone voice of Jim Nantz taking us from One Shining Moment through Amen Corner.
The Man, The Myth, The Legend
But the Masters is of particular note to us in this month's newsletter and not just because it gives us a reason to write about golf. Augusta National has done an incredible job of honoring the past while embracing the future. A "Tradition Unlike Any Other" to be sure, but a masterclass in captivating their audience. Augusta National and the Masters tournament drip with tradition yet throughout its history the club has leveraged technology to enhance the experience and broaden the attention of the tournament. The Masters was the first golf tournament to be televised in color in 1966. Today, the Masters smartphone app is the most incredible sports app I've used, particularly if you consider it's applicable for one week of the year. You can watch every shot, from every single player, on every hole at seemingly impossible speeds and no loading spinners. It's an absolute delight!
Yet in contrast, smartphones aren't even allowed on the course. This preserves a time warp for patrons that keeps you in the moment and delighting pimento cheese sandwiches for $1.50. All the while, the Masters Instagram feed creates a seemingly endless scroll of carefully curated photos and videos providing a sense of belonging for those not fortunate enough to be walking the grounds.
We could undoubtedly fawn over the Masters technological prowess for days, but the reason we highlight it here is the leadership's ability to continuously evolve without sacrificing the key components that make it unique. It's not necessary or even in their best interests to be the earliest adopter of new technology, but they won't hesitate to implement tech that enhances the quality of their product. As you reflect on your business, how do you ensure the future is working for you? It's not about changing what makes you great, but rather further enhancing those points of greatness.
The Masters is such an incredible "product" it essentially sells itself. In fact, the Masters is so confident in its prowess that it's had CBS on 1 year contracts since 1979! But for the rest of us mere mortals, we still need to take sales seriously because most of our products won't sell themselves, nor should they. Sales is an emotional, people-driven process, and great sales reps don't sell your product, they help buyers get out of their own way in making a purchase decision.
All too often we meet companies who failed to scale their sales function beyond the relationships of the founder leaving them with significant customer concentration – 2-3 customers who make up well over 50% of their revenue. With those relationships tied so closely to the founder it creates real risk to the value of the business in the near term and its overall sustainability in the long term.
We've been on a journey the last few months discovering the software tools that drive your sales and marketing engine and learning from industry leaders like Krista Todd, the CMO of NortonLifeLock and Tim Strickland, the CRO at ZoomInfo on the processes and approaches they employ daily. We've created the fundamental building blocks for generating and tracking leads, so that means it must be time to start closing deals!
Always Be Closing!
The sales process is changing with more tools for reps to engage and delight sales prospects while creating more efficient workflows saving time and energy on the tedious tasks. Keep your reps' effort where it matters most, closing deals! Let's walk through a few examples of how software tools can help scale your closing process.
Webinars (Zoom)
Love it or hate it, Zoom had a meteoric rise as one of the primary means for keeping businesses, schools, and social lives functioning during COVID shutdowns. Zoom's ease of use and streaming quality made it the video conferencing app of choice for many, but Zoom also has many advanced features for specific use cases such as webinars – registration forms, Q&A moderation, breakout rooms, etc.
Unless you plan to have more than 500 attendees you can do all of this with the Pro plan – no need to purchase the more expensive Webinar license. Zoom also integrates directly with leading CRM tools like Salesforce, Hubspot, Pipedrive, and Zoho. This means you can schedule, run, record, and review your sales meetings directly from your CRM.
Another great way to stay connected and create a memorable touchpoint is through asynchronous video. With products like Vidyard you can record a short video from your webcam as well as your screen to walk a sales prospect through a presentation or product demo and embed it in an email. Viewers can watch the video from any device with no need to download video files or players. Once again integrations are key for simplifying your workflows. Vidyard integrates with Hubspot, LinkedIn, Outlook, Salesforce among others so you can simply add videos to your customer communications. The product's video analytics dashboard allows you to see which prospects watched the video and how far they progressed through it providing you insights for your next touch point.
Products like PandaDoc allow your sales team to create, share, and sign documents all online. This streamlines the approval process through enabling collaboration and version tracking with internal and external reviewers. Sales teams can track and analyze engagement and customers can sign documents from their smartphone if they want. With products like PandaDoc your entire process from RFP to signed deal can be entirely paperless.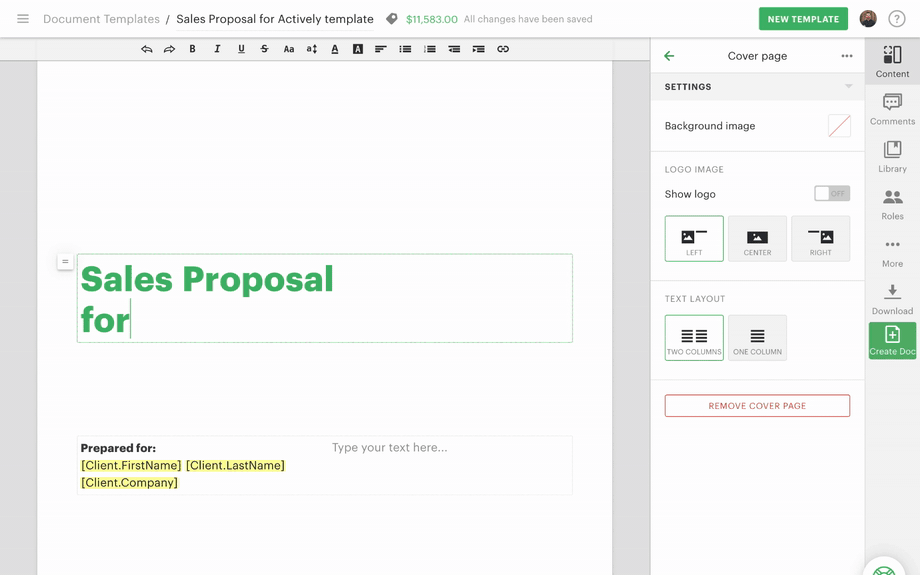 The only thing we love more than closing deals is getting paid! Let's ensure you reap the rewards of all your hard work. Using an application like Bill.com allows you to create invoices and send to your customers with a secure payment link so you can get paid directly from an email. You can also set up automatic invoices for recurring payments so you never miss an invoice and Bill.com will automatically send reminders to customers so you never miss a payment! The app also syncs directly with Quickbooks or Netsuite reducing the amount of data entry and simplifying the account reconciliation process.
Advanced Features (Gong)
If you're ready to take data insights to the next level, Gong provides more advanced capabilities. Gong's software captures and analyzes all frontline conversations with sales prospects giving you visibility into sales behaviors and deal skills to help you determine the effectiveness of your sales reps. Gong is literally recording your reps prospecting calls and parsing the conversation to provide more insights for managing the prospect or training for future sales opportunities. Gong "learns" what works in your process and provides actionable insights for reps to improve their close rates. Admittedly the advanced features and insights that come from a product like Gong will not be for everyone, but at the very least you should be armed with the knowledge that this is the direction the future of sales is headed.
Whether or not any of these solutions are a perfect fit for you doesn't really matter, because they are important demonstrations of software tools that streamline workflows, reduce the number of tedious tasks, and provide insights and analytics all without breaking the bank. More efficient sales reps will be closing more deals while providing you greater insight into your sales process. Furthermore these products are all constructed with APIs that allow you to seamlessly integrate them so you can build your business engine. Finally you can take that fax machine out back and give it the Office Space treatment. Damn it feels good to be a gangsta!